PRIME TRUCKING CLASS ACTION SETTLEMENT APPROVED BY DISTRICT COURT
www.primetruckingsettlement.com
January 22, 2021
Hodes Law Firm, LLC
Kansas City, Missouri
www.hodeslawfirm.com
DISTRICT COURT OF MASSACHUSETTS GRANTS FINAL APPROVAL TO CLASS ACTION SETTLEMENT INVOLVING MORE THAN 40,000 TRUCK DRIVERS FOR PRIME, INC.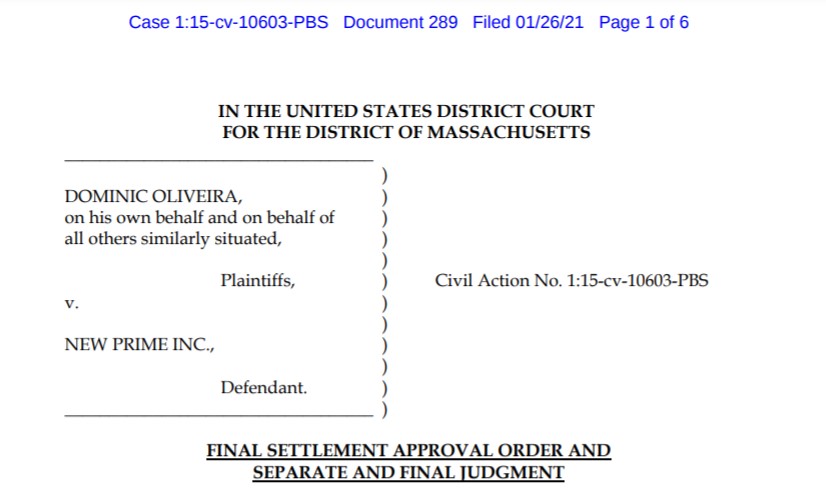 Click Image for the Final Approval Order
Good News!  The United States District Court has granted Final Approval to a class action settlement in Dominic Oliveira and Rocky Haworth, et al. v. New Prime, Inc., D. Mass. Civil Action No. 1:15-cv-10603-PBS, involving truck drivers who trained with and/or drove for Prime, Inc.
This lawsuit alleges that Prime, Inc. violated the Fair Labor Standards Act and state wage and hour laws by failing to properly pay trainees and its employee drivers and independent contractors.
Read more about the lawsuit and settlement:
Prime Trucking Settlement – Prime, Inc. Settles Class Action Lawsuits for Wage Violations
*February 26, 2021 Update:
The parties expect that settlement checks will be issued in late April 2021.
For more information about the settlement, including the timetable for settlement payments, please contact the Hodes Law Firm:
Garrett M. Hodes
Hodes Law Firm, LLC
900 Westport Rd., 2nd Floor
Kansas City, Missouri 64111
Telephone: 816-931-1718 and 855-635-7890
Email: PrimeTruckingSettlement@hodeslawfirm.com
You can also contact one of these attorneys and the Settlement Administrator:
Hillary Schwab
Rachel Smit
Fair Work, P.C.
192 South Street, Suite 450
Boston, Massachusetts 02111
Telephone: 617-607-3261
Email: PrimeTruckingSettlement@fairworklaw.com
Virginia Stevens Crimmins
Matthew Crimmins
Crimmins Law Firm LLC
214 S. Spring Street
Independence, Missouri 64050
Telephone: 855-974-0777
Email: PrimeTruckingSettlement@crimminslawfirm.com
JND Legal Administration
Prime Trucking Settlement Administrator
P.O. Box 91185
Seattle, Washington 9811
Telephone: 833-674-0178
Telephone: 877-938-0698
Email: info@primetruckingsettlement.com
#primetruckingsettlement
www.primetruckingsettlement.com
www.hodeslawfirm.com