Our employment law practice focuses on wrongful termination and employment matters involving discrimination, sexual harassment, hostile work environments, retaliation, and whistle blower claims. We also represent employees in wage and hour disputes and we review severance agreements, employment agreements, and non-compete agreements.
Employees are protected from employment discrimination and improper pay practices, under federal law through laws such as the Title VII of the Civil Rights Act of 1964, the Age Discrimination in Employment Act (ADEA), the Americans with Disabilities Act (ADA) and the Fair Labor Standards Act (FLSA). Additionally, employees in Missouri and Kansas are further protected by a variety of state laws.
What is Employment Discrimination?
Employment discrimination happens when an employee suffers some type of negative action, such as a firing, demotion, transfer or reduction in pay or benefits, because of that employee's:
Race and Color
Age
Sex
Religion
National Origin
Sexual Orientation and Gender Identity
Pregnancy
Disability and Perceived Disability
What is a hostile work environment?
A "hostile work environment" occurs when an employee or group of employees is being harassed or discriminated against to the point where he or she (or they) feels unsafe and uncomfortable while at work.
Not all actions constitute discrimination or harassment. However, any inappropriate conduct that is directed towards an individual or a group because of his, her or their protected status is considered to be discrimination and your employer is required to take action. It is critical to any hostile work environment claim to notify your supervisor and human resources representative of the inappropriate conduct so that your employer can take action.
What is Sexual Harassment?
Sexual harassment occurs when an employer or co-worker makes unwelcome sexual advances, requests for sexual favors, and other verbal or physical conduct of a sexual nature a condition of the employee's continued employment or when such conduct has the effect of creating a hostile work environment for the employee. The results we have achieved in handling sexual harassment cases is unprecedented and has shaped the law.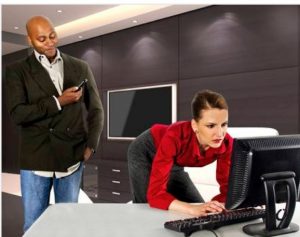 What is unlawful Retaliation ?
Retaliation occurs when an employee is punished in some way for making a complaint about discrimination or harassment directed towards him or her or even a co-worker. Retaliation may also occur when an employee files a worker's compensation claim, requests a reasonable accommodation due to a disability, or notifies his employer of suspected violations of the law.
Questions?  Schedule a Free Consultation with the Hodes Law Firm today:
(816) 931-1718 or garrett@hodeslawfirm.com